We'll leave you a simple recipe and quick to make.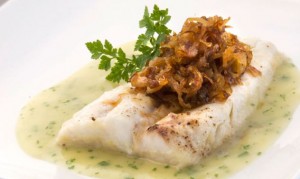 Ingredients:
1 whiting
Hortus Roasted Onion
2 potatoes
1 leek
1 glass of white wine
Salt, parsley and black pepper
Preparation:
Clean and chop the leek, put a jet of water in a saucepan and add the chopped leeks and potatoes. Season and cook for 10-12 minutes. Blend, strain and add the chopped parsley.
Season the fish, spread a little oil in a bowl, place the fish on top, pour a little oil and white wine. Bake at 200 ° for 6-8 minutes.
Make a bed with cream, place the whiting and on top the Hortus Roasted Onion.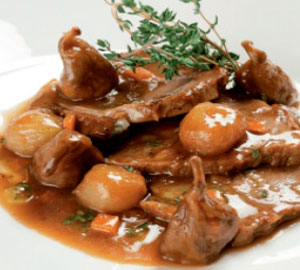 Now begins the season of figs, so, we present a dish made with this fruit and served with organic white onion "sofrito".
Ingredients:
1 cut round / 800 g veal

500 g dried figs

100 g Carrot

1 sprig of thyme

200 g of tomato

Stale wine 100ml

1/2 L of broth

Salt and pepper
To make the bite:
50 g of roasted almonds
1 cookie
2 sprigs of parsley
Preparation:
Roast the beef, seasoned to the pan or baking. Once very golden on all sides, add the head of garlic, cut tomatoes into quarters and carrots peeled and chopped into slices of 3 cm. Add, also, thyme and roasted onion. Leave it to cook for about 10 minutes and then you throw the stale wine. Let him reduce and add ye broth.

Let him bake three quarters of an hour, or until meat is tender. Remove yourselves meat and strain out the juice. Once the meat is cold Withdraw the thread, and reservadla cortadla.
You put the strained juice to fire again and add ye a snack made ​​with almonds and roasted peeled hazelnuts and cookie, along with the parsley.
Add the sliced ​​meat and let it warm up all together.
Put the figs, previously washed, blanched and let them cool in the same water, boil 10 minutes and let them take the strained juice before adding the meat cut.
Add 100 ml of white wine and let it simmer about 1 hour. Add the sliced ​​meat and juice and let it cook all together 5 minutes.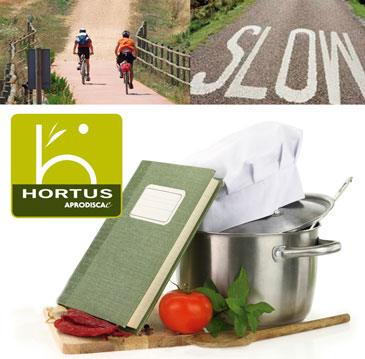 In HORTUS APRODISCAe believe in eco-tourism and sustainable tourism called slow , traveling at a different pace , a new trend different alternative to traditional tourism , is an approach to tourism activities in which sustainability is privileged , preservation , appreciation the environment ( both natural and cultural ) that sensitizes hosts and travelers .
Although there are different interpretations , ecotourism tourism is promoted as " ethical " as reflected in the structure and operation of enterprises / groups / cooperatives that are dedicated to providing this service.
It is necessary therefore to look for a real integration between the environment and the visitor . We believe that our region offers a range of possibilities for the conscious traveler , with sensitivity , with respect to the local culture and committed to traveling.
For all this we consider vital to emphasize the dissemination of this other way to travel at a different pace , a paradigm shift for the society we live in that everything is done in a hurry and do not enjoy the little moments that gives us our landscape and culture.
Our region has everything from before, today and tomorrow that the traveler can appreciate enjoying our environmental values ​​, cultural and gastronomic.
Fruit of the efforts made by farmers , technicians and consumers , organic production is consolidating and start enjoying the institutional recognition . At home, has marked the entry into a phase of effervescence of the organic sector with a notable increase in consumption and the proliferation of producers, processors and marketers , who do a good job and highlight the need to be consistent with our territory and how to keep it that have implemented our ancestors for years , this awareness brings us to recover a way to cook much more tied to the land and to ask , investigate what were the ingredients and products , such as preparing and cooked . All the teachings that gave the land to be planted if we pick a good future. Do not want to forget where we come from or where we're going , encouraged towards the path values ​​such as respect for the environment and all the earth gives us .
In HORTUS APRODISCAe we are constantly concerned with this kitchen , for us it is a bet that linked with the slow movement can be called "slow cooking " and that is the basis of organic products we make, with slow cooking recipes.