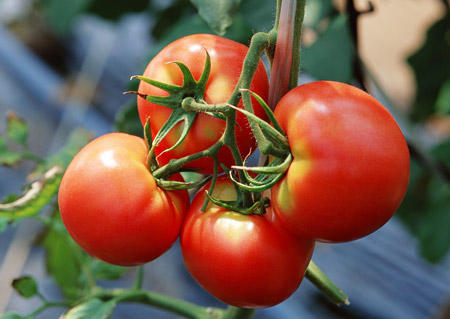 Now has come the good weather and start growing tomatoes. In the workshop of Hortus Aprodiscae prepare the arrival of the harvest of these tomatoes, we will elaborate selection process and our organic spicy green tomatoes marmalade with a very soft aromatic point.
The origin of this plant is found in the tropics of Central and South America. It seems that his name comes from the Aztec word "tomatl", "xitomate" and "xitotomate". Europeans introduced the plant in the old continent the sixteenth century but it was not until the eighteenth century it was grown.
Tomato is a fruit with a high content of vitamins and minerals. For example, per one hundred grams of tomato are of the order of 1700 IU of vitamin A and 21 mg of vitamin C. It also contains B vitamins and minerals like calcium, phosphorus and iron.
Tomato belongs to the family Solanaceae as pepper, eggplant or potato. The scientific name is Lycopersicum lycopersicu tomater. It is a perennial, which means that in the wild can live about how many years.
The tomato is a warm weather plant, so you have to cultivate the spring and summer. The transplant can be done either March to coastal areas or April or May to inland areas. Two months after transplantation and have the first tomatoes and the plant will stop producing tomatoes all summer until it gets cold.
The most commonly used in our country are the dressing, branch, cherrie, hanging, Montserrat and pear.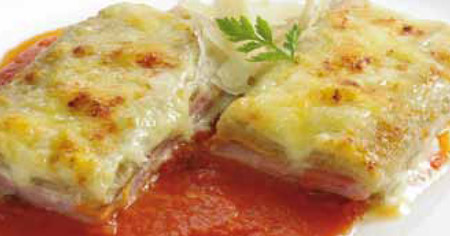 Os present using the chard stems that normally people do not know as you have to cook, you will obtain a dish very different and tasty with our Organic Spicy Tomatoes Marmalade.
Ingredients:
Chard stems (because out between 16 and 20 booklets)
4 or 5 slices of ham, a little thick
Manchego cheese 125g
200 ml of cream
2 eggs
Flour
Pinch of nutmeg
Extra virgin olive oil and salt
Preparation:
Cleanse the leaves, they have to be wide, taking care of them clean and cortadlas thread in the direction of the length pieces about 7 cm, you'll have to blanch.
Also you cut the ham to the same extent as the pieces of stalk, make ready the booklets. Flour and go through the egg and season, freídlos in hot oil.
Grate the cheese and then you put it in a saucepan the cream or cream, throw over a little nutmeg, add the cheese and removed removedlo very low heat.
To serve, you put the bottom of the dish a little spicy tomato jam and the leaves above batter and cover it all with the cream cheese. Serve him finish out the fire.
This dish can also be prepared and heat leaving the oven, or in another variant, the leaves filled with braised oxtail.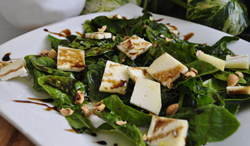 We present a prescription cold now that the good weather and you feel like it, with our organic toasted hazelnuts.
Spinach Sprouts
Cheese from cow
Honey
Extra virgin olive oil
Maldon Salt
Reduction Pedro Ximenez vinegar

 
Spinach outbreaks cleanse carefully dry them or do them to the dish that you have provided source serving, you cut the cheese into slices of medium thickness and place them over the spinach, chopped hazelnuts repartid also. Season with Maldon salt, Scatter a few touches of honey on top without going over, you put the oil and add ye to finish a few drops of vinegar.
Ready to serve, easy, healthy and fast.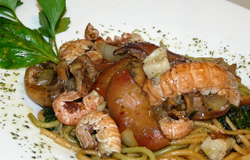 We present a recipe a bit laborious but lovely with our organic white onion "sofrito" as a base for the sauce of this dish.
Ingredients:
Preparation:
Wash, peel and cut the mushrooms into slices not too thin, too clean robellones, lobster tails and basil leaves.

Bring water to boil with a little oil, a little salt and a couple of bay leaves. When starting to boil put the noodles and cook for 10-12 minutes or

Chop some garlic and parsley, heat a little oil in a pan, launches the garlic and parsley and mushrooms, add a little salt and stir then put three tablespoons of roasted onion and quiet.

In the same pan, add a little more oil to the shrimp, dotted previously and then he made his point, foreign torraditas along with mushrooms.

Put the basil you have previously cut, but nothing, four courts, is the big leaf. Two minutes turning and throwing spaghetti, you throw a pinch of white pepper and remove the black and all good. They have to brown a little, add the mushrooms with crayfish and juices.

Serve with the spaghetti with prawns base above and mushrooms accompanied by a little chopped parsley.