Now has come the good weather … we present a spring salad very easy to do with our Organic Spicy Tomatoe Marmalade.
Ingredients: 
Mezclum
Goat cheese curler
Maldon Salt
Vinegar "Jerez"
Extra virgin olive oil
Nothing as simple as putting the washed and drained salad on the plate, add two slices of goat cheese on top of each put a teaspoon of organic spicy tomatoe marmalade. Season with vinegar, oil and some Maldon salt flakes.

NOTE: Mesclun is a salad mix and varied leafy lettuce, Lollo, chicory, endive, oak leaf, arugula, spinach … Amounts to taste the same as the dressing.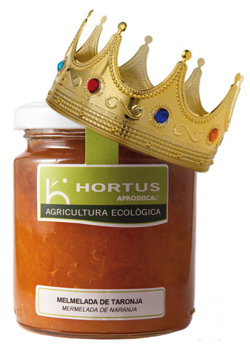 History of the jam.
Although no one knows for sure the origin of canned fruits, are known to be ancient. Probably the making of jellies and jams began centuries ago in the Middle Eastern countries where sugarcane growing. It is believed that returning Crusaders were the first to introduce jelly and jam to Europe by the middle of the Middle Ages jellies and jams were very popular. The use of sugar cane for making jellies and jams can be traced back to the sixteenth century when the Spanish came to America where preserved fruits.
The first cookbook written by Marcus Gavius ​​Roman gourmet Apicius in the first centuries, including recipes for preserving fruits. It is believed that the jam was created in 1561 by the physician of Mary, Queen of Scots, when orange and sugar mix to prevent dizzy. It is believed that the word marmalade derives from the French "Marie est malade" (Mary is sick) but it is believed that the word is derived from Portuguese marmelo to refer to quince.
The jams were a delight to kings and nobles who demanded a variety of flavors. Chronicles of the grand feasts offered by Louis XIV, say these feasts always ended with jams and jellies served on silver plates. Each delicacy served at Versailles was produced fruit of the gardens and greenhouses of the king.
If you come to our store will enjoy special discounts and a free tasting during Medieval Week.
Today I propose a recipe a little more laborious but with a fantastic result with our Organic Spicy Tomatoe Marmalade.
Ingredients:
Pastry
Desalted cod fillet and skin
Milk, flour and butter
Sprockets
salt
Preparation:
We started preparing the ramekins, stretching the pastry and titrated in small molds. We put it in the oven for 7-10 minutes at 180 ° C and the reserve.
Then, the flesh split cod skin. We'll take this skin and cut it into strips. It gently and doraremos enharinaremos the pan with a little oil, until catch roast color. The fire will draw and place them on paper because lose absorbing excess oil.
Then desmenuzaremos cod and put it in a escorredor to lose excess desalinated water. In a skillet, we will undo the butter, add the flour, a pinch of salt and we will incorporate the milk, slowly, to make a bechamel. When either thick add a little shredded cod.
Finally, add the pine nuts and will remove vigorously until smooth.
We'll leave it to cool slightly and then begin to prepare the casserole. In the background, the brandade.
Above, the spicy tomato marmalade and, to crown, strips of crispy cod skin. Try serving it without putting it in the fridge, because everything is very crispy cod skin both as pastry casserole.
Extrated from: http://tapatdetapes.blogspot.com.es/2013/04/cassoleta-de-brandada-amb-melmelada-de.html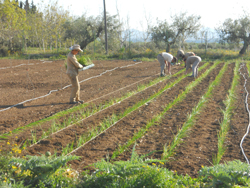 Onion is one of the oldest cultures of the Mediterranean culture. Formerly known by the Egyptian culture.
Nutritional properties
The onion has a very comprehensive nutrients, vitamins, carbohydrates and fiber but the most valuable is the content in phytochemicals that give it taste so characteristic. It is consumed in many ways, raw, cooked, canned and as a condiment and accompanying large variety of dishes of meat, fish or vegetables.
The onion is a plant of the lily family, its scientific name is Allium cepa. It is a biennial plant. The onion bulb is formed during the first year for the accumulation of reserves to the base of the leaves. It has a shallow root system that is well suited to growing in containers.
There are many types of onions, some typical of certain geographical areas. They are classified by the shape of the bulb, the growing season or climate adaptation.
Onions need minimum day length (photoperiod length) to induce the formation of the bulb. According photoperiod requirements are classified as summer varieties are harvested in the summer and need a long photoperiod, ie, several hours of light to form the bulb. Also known as long-day varieties. Winter varieties are harvested in autumn and early winter. Varieties are known as short days or short photoperiod although actually would mean less largo.También photoperiod are classified according to whether harvested dry, tender or sent (refer to the fact that sold in bundles or sent several onions). Although all tender onions can be harvested or dried for harvesting dry varieties are those that are best stored for several months after harvest. The color of the bulb is another feature for grouping varieties. There are varieties of bulb white, yellow or red, as Figueres onion.
This plant is hardy but requires slightly higher temperatures and minimum day length to form the bulb. It makes campus. The cycles are recommended transplant in late winter and dry onion harvest in summer and late summer transplant and onion harvest in winter. It can make planting pots with 4-5 then by boat or small trays or pots. From planting to transplantation can spend about 30 to 90 days, depending on the time is made. If transplanted to bareroot plant separates each about 15-20 cm. If we use boat squad, with two or three plants per mancho, increase the spacing between plants to 25-30 cm. Keep in mind that if the onions close together transplanted get smaller bulbs. If you want to reap the dry bulb and keep for several months, we have to wait until the leaves begin to dry, 3 or 4 months after transplantation.
Now that it's strawberry season, we present a very original recipe with organic white onion "sofrito".
Ingredients (for 4 people):
600 g pork loin
200 g of strawberries
3 tablespoons of organic white onion "sofrito" HORTUS APRODISCAe
50 g of butter
50 g grain mustard
Vinegar 50 ml of strawberry
100 ml water
salt
Pepper
Extra virgin olive oil
To serve: salad and roasted potatoes
Preparation:
Generously seasoning the pork loin and brown on all sides in a pan with a little oil. Remove the meat, spread with mustard and roast in the oven for about 20 minutes at 190 ° C and during the last 5 minutes, add the tablespoon of organic white onion "sofrito".

Meanwhile, in skillet, reduce heat to very soft strawberry vinegar, water, honey and half the strawberry puree, stirring with a wooden spoon. When missing a few minutes to finish cooking, add the reserved strawberries and cook for another few minutes.

Cut the pork into thick slices and drizzle with strawberry sauce.

Serve on a bed of salad and served with roasted potatoes.
Extrated from: Mi receta de la revista Mi bebé y yo – Abril 2013