They are tasty
Are healthy and usually have a high concentration of nutrients
They are safe and comply with regulations
Help preserve the environment and reduce carbon footprint
They are produced without pesticides or chemical fertilizers
Do not use genetically modified organisms
The most respected animal welfare
Animals not treated with preventive antibiotics or hormones
It restricts the use of additives to essential
Are strictly regulated by European standards
Why buy Hortus APRODISCAe?
To generate social value: Hortus Buying in contributing to the creation and maintenance of jobs for people with intellectual disabilities, mental illness and / or social exclusion working in our organization.
Because values that territorial Buying in Hortus're promoting the dignity of farmers and producers of our rural counties and contribute to local development and food sovereignty of Catalonia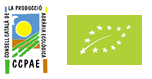 All organic food must be labeled with the symbol of "eurofulla" which certifies that it meets the regulations of organic farming in the European Union, Regulation (EC) No 834/2007.
In addition, the logo identifies products organic estates Catalans.
Organic certification ensures that products have been produced or prepared according to the rules of organic farming, which have been controlled throughout the process of production, processing, packaging and marketing.
The Catalan Council of Ecological Agricultural Production (estates) is a corporation supervised by the Ministry of Agriculture, Food and Rural Affairs of the Government of Catalonia. Its function is to audit and certify organic food products from home.
The products that grow, make and / or sell Hortus APRODISCAe are certified and labeled by strictly following these criteria.
Among the organic certificates from other countries, you can find the following:
Preserving plant and animal biodiversity and promoting sustainable local development regions. Its basic principles are:
Respect the natural fertility of the earth and its cycles.
Preserving Biological Diversity: Varieties, species and breeds.
Do not use chemicals such as pesticides, insecticides, fungicides or herbicides, thereby minimizing the ecological footprint.
It does not use genetically modified organisms.
Making responsible management of resources such as land, water and energy.
The most respected animal welfare.
Very restricted use of food additives.
How can you identify an organic food?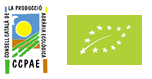 You can find it in stores as Hortus with the name of ecological, organic, biological, ecological or bio and shall be certified by the relevant regulatory authorities. In the case of Catalan products does the Catalan Council of Ecological Agricultural Production (estates) and the European Union. We can identify the symbols on the left.