Recently, the Centre de Desenvolupament Rural Integrat de Catalunya (CEDRICAT) has published The Handbook of organic production of vegetable seeds and plants. This manual provides farmers are technical and legal basis for organic production plants and seeds.
It deals with the genetic aspects and environmental production processes, facilities, raw materials, etc..
It is aimed at anyone who wants to get seeds or seedlings according to the ecological system, whether it is done by the self as if the production is intended for sale to third parties.
The Handbook is published by CEDRICAT collaboration with l'associació L'Era , Agroecological Resource Area in the project Llavorae.cat (Innovative Projects funded by the program in accordance with the Order TRE/293 / 2010, sponsored by the Employment Service of Catalonia and funded by the European Social Fund).
Desgarregar you can here the manual in PDF format from organic free (web CEDRICAT).
The Handbook on paper will cost € 10 and can be purchased at:
Section of publications from the Web Era .
Contacting the direction CEDRICAT cedricat@cedricat.cat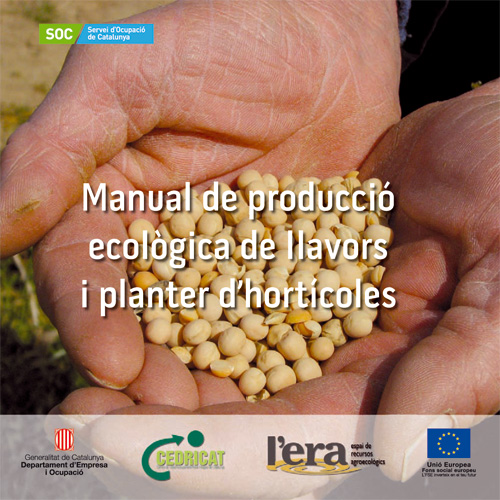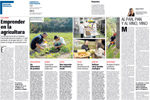 On April 29 Agrosocial Network sponsored by the Catalunya Caixa Welfare returned to the headlines in La Vanguardia.
This social network is formed by different agricultural companies and associations that have their social framework in rural . Currently comprises 23 organizations, including Aprodisca with its agro-ecological project Hortus APRODISCAe.
This network serves to create synergies and linkages between the various entities that form and also provide expertise and funding lis, thus promoting the growth of new social entrepreneurs and the consolidation of existing ones.
There you will find a picture of the workshop Hortus Aprodiscae.
Today we present a simple and delicious appetizer recipe is perfectly suitable for the celebrations.
Ingredients:
Bread
Intensely flavored cheese
Very small size tomatoes (cherry type)
Endive leaves
Procedure:
Cut the bread into slices about three inches thick.
Rub them with the onion.
Arrange the cheese on top generously cut very thin slices.
Cut the tomatoes into two pieces and garnish the dish with lettuce leaves.
Suggestion:
Accompany with a good aperitif wine or champagne..
The Organic Roasted Onion Hortus Aprodiscae cooked slowly roasting why go to get the onion sauce very tasty and aromatic flavor reminiscent of traditional roast grandmother.
Besides being the key ingredient in this thug is ideal for meats, chicken, foie gras, cheeses and salads. And to save time when cooking pasta, vegetables, rice, because we have a healthy and tasty sauce ready to add to the dish.
Bon appetit!