We recommend a salad perfect for the winter months, seasonal ingredients prepared by chef of Hortus Aprodiscae. Bon appetit!

Ingredients:
Mezclum ecological (endive, lamb"s lettuce, red chicory)
Bite toasted hazelnuts green variety "bold" Hortus Aprodiscae grown on our farm Way of the Sierra de la Selva del Camp (Tarragona) in Arbequina extra virgin olive oil organic Hortus Aprodiscae
Romesco Sauce ecological Hortus Aprodiscae
Spicy Green Tomato Jam Hortus Aprodiscae
Organic Goat Cheese
Organic carrot julienne
Organic beet julienne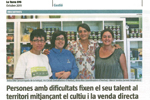 On October 2011 the magazine Terra published an article about  HORTUS APRODISCAe in its section on initiatives.
This article talks about the goals of this  project agroecological and high quality, while promoting social values.
Original PDF below